HD in single auger Omega VRT350HD Juicer stands for heavy-duty.
Juicing like other nutritional choices is a lifestyle decision. You may decide to juice occasionally or daily. Heavy-duty style juicers are for those who have reached the conclusion that daily juicing is connected to better health, more energy, and longevity.
Health-conscious individuals who juice daily have compared masticating juicers and centrifugal juicers. They know that centrifugal juicers don't work well with leafy green vegetables.
Omega vrt350hd is a masticating juicer that could juice almost everything including leafy greens and wheatgrass. Hard fruits and vegetables are so easy.
The ability to juice leafy green is not only more beneficial to your health but allows you to create more recipes with a variety of tastes from subtle to energizing. Your ability to create variety in life and in juicing keeps you engaged and on track.
The last thing you want is to lose nutrients in the process of creating delicious juices with the best ingredients.
This is where the slow 80 RPM  speed of Omega vrt 350 comes in. This low speed keeps both the heat build-up and the oxidizing froth to a minimum keeping nutrients and enzymes active.
In addition to being productive, Omega vrt350 is compact and contemporary.
Innovations like the auto-cleaning system keep the juicing screen clear as you juice and increase juice yield.
The ULTEM juicing screen is 8 times stronger than regular screens and destined for heavy-duty daily use.
Below is a more detailed video review of Omega vrt350hd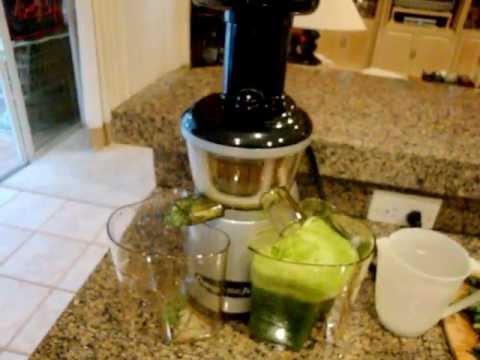 Omega VRT350 Heavy Duty Dual-Stage Vertical Single Auger Low Speed Juicer Silver